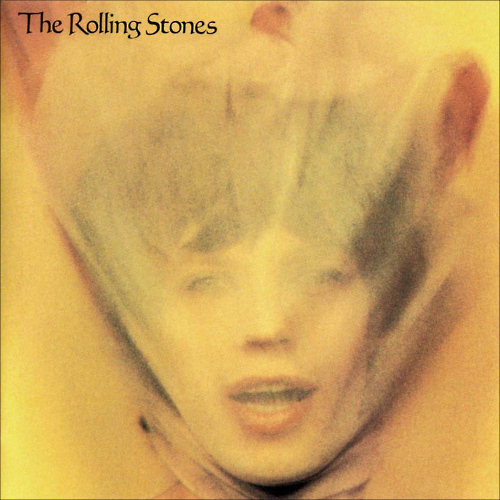 1973, Virgin
Ce n'est pas qu'aujourd'hui la musique des Stones puisse être considérée comme révolutionnaire, mais cet album, bien que trop douceâtre à mon goût (un peu trop de piano ?), fait encore partie de la grande époque du groupe. Il relève donc plus de la discothèque idéale et nostalgique des gens de ma génération que d'une véritable passion musicale. Encore qu'il faille lui rendre justice d'une musique parfaitement maîtrisée. De musiques avec un « s », même, car les Stones y déploient un impressionnant catalogue de styles, allant du rock ultra-classique (Star Star) au blues (Hide Your Love), en passant par le son du Sud (Silver Train), la ballade (Coming Down Again, Winter), la curiosité d'inspiration exotique (Can Your Hear The Music), le pop-rock (100 Years Ago, plutôt insipide au début, mais qui finit heureusement en salutaire accélération) et la patte 100% Stones (le tube Heartbreaker et Dancing With Mr. D., au superbe riff de guitare). Sans oublier évidemment Angie, pas franchement original et arrangé à la « vas-y coco, fais-moi pleurer le piano et dégouliner les violons ! », mais néanmoins tube international et intemporel.
5 novembre 2006
Version live de 1973.
Chansons de l'album
Dancing With Mr. D.
100 Years Ago
Coming Down Again
Doo Doo Doo Doo Doo (Heartbreaker)
Angie
Silver Train
Hide Your Love
Winter
Can You Hear The Music
Star Star
Crédits
Musiciens
Les Rolling Stones sont Mick Jagger (chant, guitare, harpe, piano), Keith Richard (guitare, basse, chant), Mick Taylor (guitare, basse, chant), Charlie Watts (batterie) et Bill Wyman (basse).
Avec Chuck Finley (trompette), Nicky Hopkins (piano), Jim Horn (flûte, saxophone alto), Bobby Keys (saxophone ténor et baryton), Jimmy Miller (percussions), Billy Preston (piano, clavinet), Pascal Rebop (percussions), Ian Stewart (piano).
Auteurs
Écrit et composé par Mick Jagger et Keith Richards.
Arrangement des cuivres par Jim Price (4) et des cordes par Nicky Harrison (5).
Production
Produit par Jimmy Miller.
Enregistré et mixé par Andy Johns aux studios Dynamic Sound à Kingston (Jamaïque).
Pochette
David Bailey.
Parution et label
1973, Virgin.